Why barbering is a great career choice
Recent research has revealed that barbershops are outperforming beauty salons, nail bars and health clubs when it comes to opening the most retail stores.
"Whilst talking is a big part of the job, listening is a barber's best friend."
The Local Data Company's Retail and Leisure Trends Report 2017/2018 found that barbershops also outgrew other retail businesses such as restaurants, bars, tobacconists, cafés and tearooms, pizza takeaways, coffee shops and mobile phone stores.
Barbershops not only opened the most stores between 2012 and 2017, but their rates of growth actually increased in 2017.
We spoke to award-winning barber and educator Tom Chapman, founder of the Lions Barber Collective and an ambassador to The Bluebeards Revenge, about why barbering is such a great career choice and why the future is so bright for the industry.
Be your own boss
The freedom to choose your own prices and working hours, the ability to setyour own dress code – these are just some of the benefits of being a barber.
The barbering industry offers plenty of chances for you to take on your own business. And, for those that might find the idea of running their own business a little daunting, you could rent a chair in someone else's shop. This gives you the freedom of managing your own chair, without having the stress of running the entire shop.
A growing industry
The biggest challenge facing many barbershop owners at the moment is the lack of quality barbers currently in the industry. They are like gold dust and in very short supply. And when you combine this with rising consumer demand for barbershop quality cuts and shaves, the issue of effective barber recruitment becomes even more important. There is growing demand for quality barbers so the employment opportunities are massive.
Job security
Hair never stops growing… barbering is time and recession-proof, so you will always be in demand.
Travel
The brilliant thing about barbering is that you'll never struggle to find work. No matter where you find yourself in the world, people will need haircuts.It's the perfect job to travel the world with. Travelling with your barbering will also help you to become a better barber. You'll learn new skills and different methods thanks to the diverse cultures you'll be immersed in
Chewing the fat
If you're that person on the tube that enjoys breaking the awkward silence to talk about anything and everything, then barbering may just give you the perfect release for all that social energy. Barbers are renowned for their small talk and ability to hold a conversation with just about anyone that sits in their chairs. Whilst talking is a big part of the job, listening is a barber's best friend.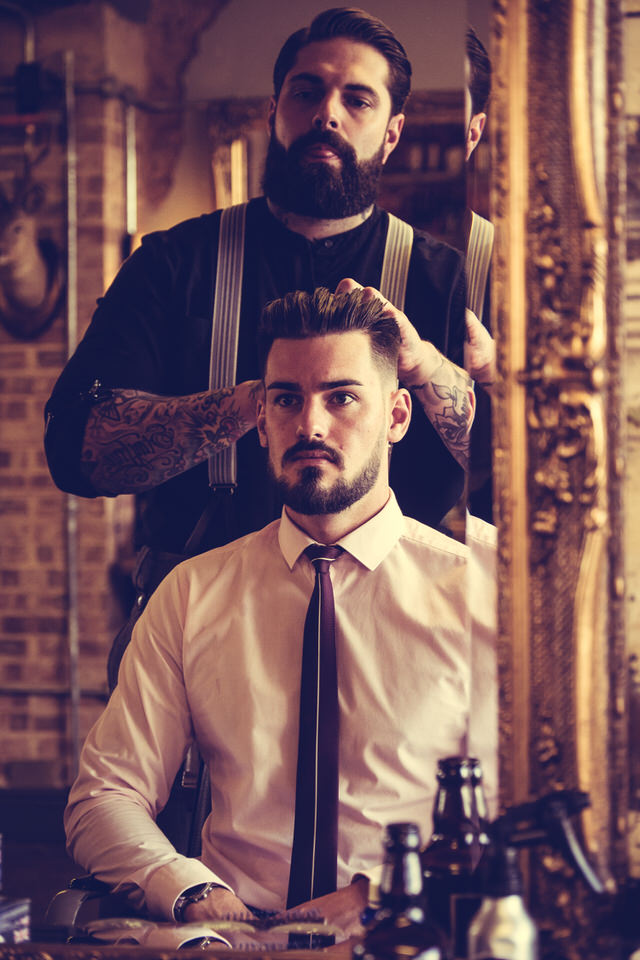 "Hair never stops growing… barbering is time and recession-proof, so you will always be in demand."
Throughout your career as a barber, you can expect to learn many secrets from your clients. The best barbers keep these nuggets of information private. If you can master this skill, you're right on your way to building a successful client base and career.
Working with fashions
The hair and beard styles that we blokes model change as regularly as the clothes we drape our bodies in. Therefore, if you're going to pursue a career as a barber, you'd best make sure you have a keen interest in fashion. Fashion will be a big part of your job, and keeping up with it can be mighty exciting. Your clients will want to know they can come to you for the latest and greatest cuts and will expect you to have the confidence to provide them.
Sharing your creativity
Barbering offers you the perfect opportunity to share your creativity with the world. As styles go, some of today's trends definitely require a touch of artistic flair, which makes pulling them off all the more satisfying.
Once you've built relationships with your clients, you can even be a little more daring with regards to suggested styles, meaning they'll leave the shop feeling truly unique.
Make good money
When your talents start to grow, and your client base increases, barbering can be very kind to your wallet. On average, a decent barber earns approximately £28k per year or £14 per hour. Add tips (especially during December) and the drive to work hard and it can be a very lucrative career.