News reports too boring or upsetting for many young people, Ofcom finds
Four in 10 young people aged 12 to 15 take little or no interest in the news because it is either too boring, irrelevant or upsetting, an Ofcom study has found.
The broadcasting watchdog's annual study into news consumption habits in the UK shows 39% of youngsters turn a blind eye to current affairs.
The poll of just over 1,000 children found the majority (46%) were "quite interested" in reading, listening to or following the news, compared with 28% who were "not very interested".
At the ends of the scale, 14% were "very interested", while 11% were "not at all interested".
The biggest reason for apathy was because children found the news "too boring" (41%), while almost a quarter (23%) said it was "not relevant for people my age".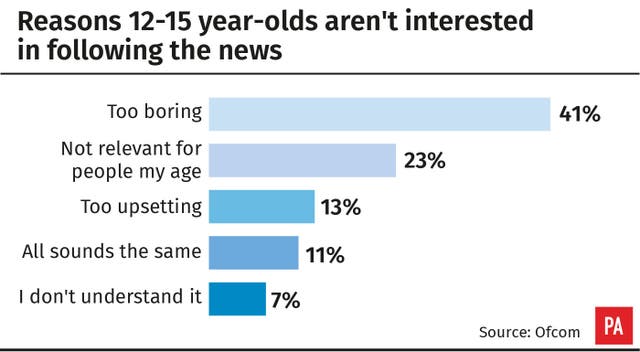 Other reasons included that the news was "too upsetting" (13%), that it "all sounds the same" (11%), and that they "don't understand it" (7%).
The report said: "This was a running theme that was also observed among adults in the qualitative research, with people noting that they felt miserable after consuming news as they felt it always focused on negative events.
"Parents also told us that, in some instances, they would shield their children from the news when a story was broadcast that they felt was inappropriate for their child to hear, e.g. the reporting of a rape case on the lunchtime radio bulletin."
Of the children interested in the news, only 16% said they had any interest in politics or current affairs, compared with 58% for music news.
The study found television is the most common way for children to follow the news (68%), compared with 64% who learn from discussions with family members, and 56% from social media.
Just one in five (19%) children in this age group discover news through print newspapers, the data suggests.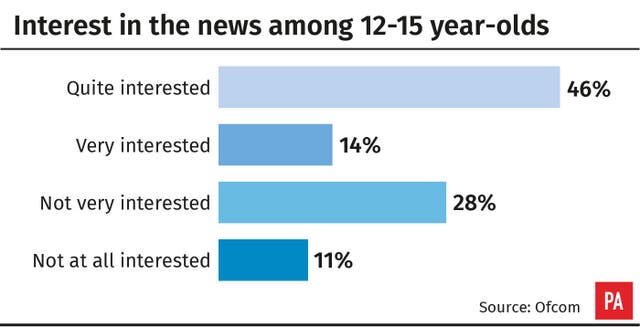 Some 62% of those aged 16 and up said they used BBC One for their news – more than any other news source.
ITV was the second most-used (41%) while Facebook was third (33%), according to the poll of 4,618 people.
The statistics hint at a clear division in the news consumption habits of older and younger generations. About four-fifths (82%) of respondents aged 65 and up used BBC One, compared with just two-fifths (39%) of those aged 16-24.
The young adult age group instead used Facebook (52%) to access news, more than any other source, while just 12% of older adults used the social media network for that purpose.
The data found social media was the most popular type of online news, used by 44% of UK adults.
The report said: "However, while lots of people can recall the social media site they consumed the news on (e.g. 76% of respondents said they used Facebook for news nowadays), some struggle to remember the original source of the news story."
The survey questioned men, women and children from a range of age groups, statuses and social backgrounds across the country.
Research was carried out between November 2017 and April 2018. Ofcom said it was unable to make accurate comparisons with previous data due to its methodology and the way the information was collected.