A student ordered takeaway just to get the delivery driver to remove a spider
A student who was trapped in her house with a scary spider came up with an ingenious way to summon help – by adding her plea for help to her Deliveroo order.
Demi Sweeney was home alone at her Bournemouth houseshare when she caught a glimpse of a large spider blocking her path to the stairs at about 10am.
Too scared to move, she set about seeing if friends or neighbours were around to help and even pinned her hopes on a scheduled tradesman doubling up as a spider removal service but they never showed up.
As time went on, Demi, 22, began to feel hungry and hit upon her light bulb suggestion of getting Deliveroo to help, thanks to a friend.
And it played out perfectly.
She first messaged the delivery service's customer service team to check it was OK, then crafted an order for KFC.
"I have a huge phobia of spiders and I'm so paranoid of them, I find myself constantly scanning the room I'm in to make sure there aren't any," Demi told Press Association.
"As soon as I left my bedroom I noticed a huge one in the corner of the corridor near to the stairs and began to panic.
"I was scared that because of where it was, it may drop on to me. I was then messaging a friend in a panic. I told her I was hungry, thirsty and trapped upstairs and she called me and suggested ordering food and asking the driver to remove it for me.
"I decided to private message Deliveroo on Twitter to ask if this was a possibility. They replied saying if the driver wasn't scared of spiders himself, then this could be arranged. I then ordered a KFC and in the delivery notes section wrote 'I have spoken to Deliveroo customer service, please can you help to remove a spider for me'.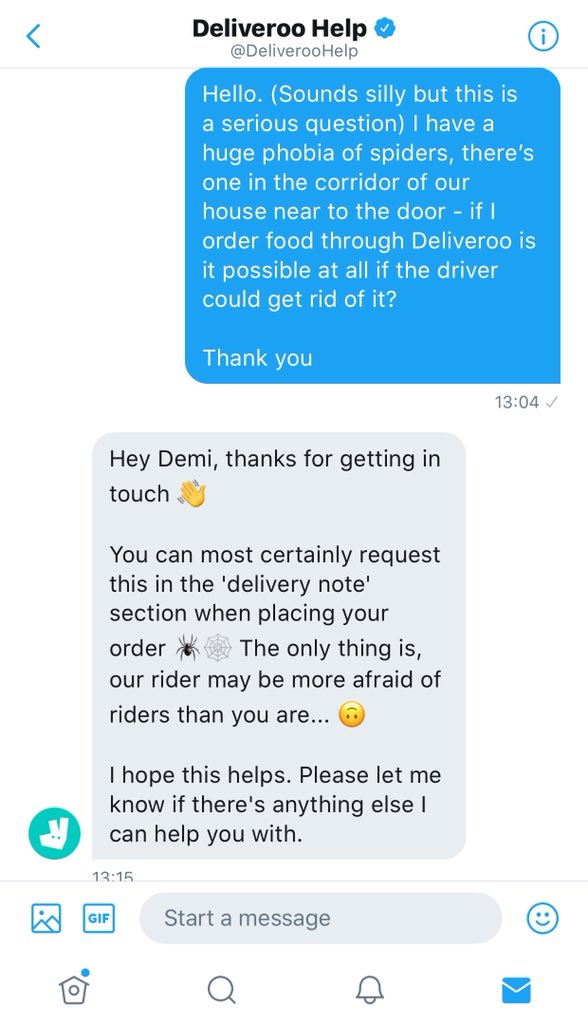 Twenty minutes later Deliveroo delivery guy Joe arrived and Demi bravely rushed past the spider to let him into the house.
"I ran down the stairs with a roll of tissue paper in my hand at the ready and asked the driver, 'Have you seen my delivery note?' He laughed and said, 'I have but I'm also scared of spiders'."
The gallant Deliveroo knight still completed his extra request, standing on a chair to get the spider down but in the flurry of activity it ended up on the floor and began to run away.
Sadly, the spider did not make it. After being squashed it was flushed down the toilet.
"I thanked him around 50 times and he kept saying this is so funny whilst laughing. I wanted to hug him! A real-life hero."
There's no promise of a full Deliveroo Spider Service just yet but Bobby Burns, a Deliveroo spokesperson, said: "Riders like Joe often go above and beyond the call of duty to bring customers amazing meals and it's great to see this recognised.
"We can't guarantee a spider-catching service every time you order a pad thai or a Margherita, but in Demi's case we're glad the creepy-crawly won't be causing any more trouble."