Get a sneak preview of Prince Harry and Meghan Markle's wedding in Lego form
Here's a chance to see a little preview of Prince Harry and Meghan Markle's wedding before the big day.
Tiny versions of Harry and Ms Markle stand outside a Windsor Castle built from 39,960 Lego bricks in a new attraction at Legoland Windsor.
The couple are to marry in the castle's St George's Chapel on May 19.
Lego Ms Markle stands 10cm tall and is made from 60 bricks, including a white dress with a trail and swept-back veil.
The scene stands in Legoland's Miniland attraction and 500 "Minilanders" – built from 17,000 bricks – stand on grass under Union flag bunting to cheer the couple.
They are also seen cheering on the newlyweds as they travel in a horse-drawn coach – a miniature version of the Ascot Landau carriage they will use on the day.
It is made from 1,500 bricks and pulled by two white horses – made from 200 Lego bricks.
The couple's wider family can also be seen as Lego figures for part of the occasion.
Here's Harry with his brother and best man-to-be the Duke of Cambridge plus the Duchess of Cambridge, Prince George and Princess Charlotte and Ms Markle's parents.
The Queen and Duke of Edinburgh plus Prince Charles and the Duchess of Cornwall all feature in the Lego wedding.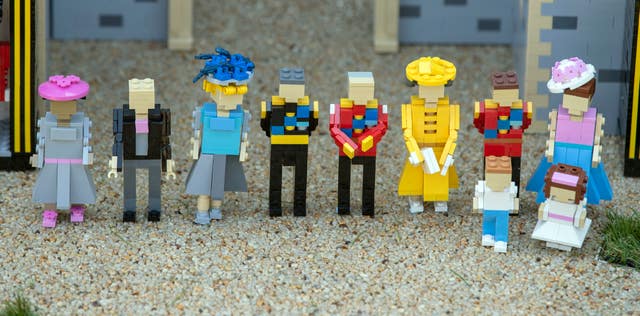 Among the celebrity guests at the Lego wedding are Sir Elton John and the Spice Girls – in 90s attire.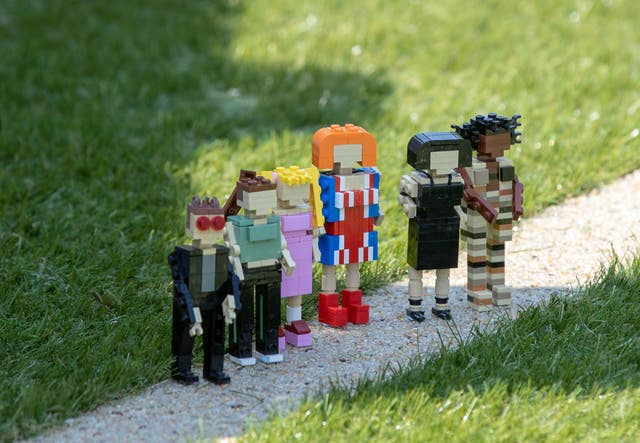 The entire model took more than a month to create. Eleven model makers worked for 752 hours to build the scene.
Windsor Castle alone took a team of eight model makers 592 hours to complete.
Paula Laughton, head model maker at the Legoland Windsor Resort, said: "With the royal wedding happening just down the road, it felt only right to celebrate their special day with a new royal scene and it was a real thrill to be able to immortalise our local castle in Lego bricks for the first time ever.
"We can't wait to see our guests' reaction to the royal tribute and our magnificent new Windsor Castle."
The wedding scene will remain until November, while the castle will remain in Miniland.
In total there are 80 million Lego bricks used at Legoland Windsor.