This dog levelled up and ate his owner's degree
p>A good boy has shown he is a cut above the rest by chewing up not his owner's homework, but his
degree
.
Archie, a one-year-old mini schnauzer, is notorious for eating the post but his owners, Swapna and James Haddow, thought they had solved the issue by installing a sack to catch the mail.
But on the day that James, a general surgeon, was hoping to receive his hard-earned degree certificate from Queen Mary, University of London, he found it alright… just not in one piece.
Pictures show the adorable pup sitting proudly by the remains, blissfully unaware of his massive faux pas.
"He's always loved eating paper," James, 40, told the Press Association.
Swapna, a children's author and creator of the Dave Pigeon books, added that Archie had "somehow managed to get into the sack on this occasion".
But there are no hard feelings – in fact, when James had his shredded-up certificate handed to him in a carrier bag, he couldn't help but laugh.
"When Swapna told me what had happened and handed me my degree in a plastic bag, I couldn't stop laughing. I asked Archie if he had eaten my degree and his cheeky face said it all," he said.
"We are best of friends and always will be."
Eight-year-old son Phoenix found the incident just as hilarious.
"When we came through the door and saw Daddy's degree all over the hallway, I was laughing so much. And then I had to tidy it up because my mum said so," he said.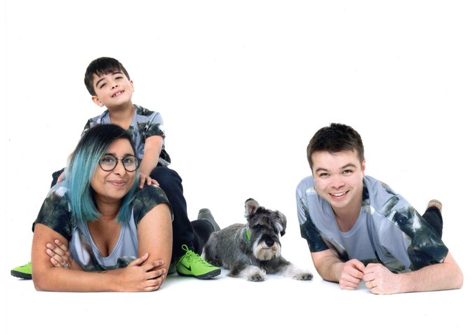 Swapna, 35, joked: "To be honest, I wish he'd chew up a few more bills if he's going to chew anything.
"He is such a loving and friendly dog and he's the best dog to have an afternoon nap with." But the author concluded: "We need a better mail sack."
What was the certificate for, you ask? A research degree in digestive diseases.
And digest, he did.