Amy Poehler hits out at NRA for using Parks And Recreation gif
p>Parks And Recreation star Amy Poehler has hit out at the National Rifle Association after the gun lobby group used an image of her on Twitter.
The NRA posted a gif of Poehler's Parks And Rec character Leslie Knope in a tweet thanking US radio host Dana Loesch for supporting the group after the Florida school shooting.
Though not on Twitter herself, Poehler told the NRA to "f*** off" in a message passed to Parks And Rec creator Michael Schur, who tweets as Ken Tremendous.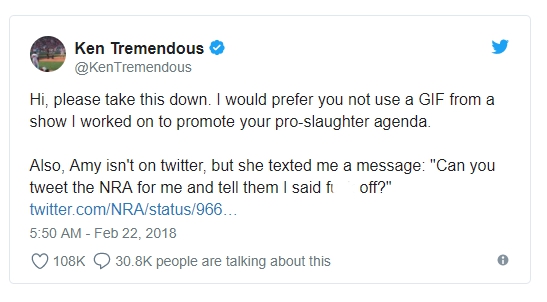 He wrote: "Hi, please take this down. I would prefer you not use a GIF from a show I worked on to promote your pro-slaughter agenda.
"Also, Amy isn't on twitter, but she texted me a message: "Can you tweet the NRA for me and tell them I said f*** off?"
Fellow cast members echoed Poehler's message, with Adam Scott tweeting: "Hey @nra please stay the f*** away from Leslie Knope."
Nick Offerman, who plays Ron Swanson, wrote: "Our good-hearted show and especially our Leslie Knope represent the opposite of your pro-slaughter agenda – take it down and also please eat shit."