A blind man's plea to Twitter users to change settings so he can 'see' pictures has gone viral
A blind ex soldier who posted a heartfelt request for Twitter users to change how they upload pictures has been overwhelmed by the response.
Rob Long, 30, a former Lance Bombardier in the British Army, explained how people could update their settings so that he – and other blind people – could 'see' pictures.
By turning on a function called "image descriptions" it allows people to describe what they see in their uploads in text.
Technology reads the description aloud when a blind person is scrolling through Twitter.
Without descriptions in place, blind users are just told there is an image, but not what it shows.
"When I first posted it, there was 15/20 retweets and I was really happy. I was over the moon," he told Press Association.
He then left his phone while he went to work out and came back to hundreds of notifications.
"I'm so overwhelmed. I'm really pleased that Twitter has this technology and I'm so grateful people have been supportive of it."
One person shared a picture of a dog explaining that she had turned on the settings and would add descriptions from now on.
"The description explained 'this is a dog with a cheeky grin and a hoodie on'," said Rob.
"That pic normalises Twitter. It's like a missing piece of the puzzle. It's so important."
Rob lost his sight in 2010. On July 8, while on tour in Afghanistan with 4/73 Special Observation Battery his patrol was hit by an IED which claimed the life of one of his friends.
Rob lost his left eye instantly and the right eye once back in the UK but he has remained positive and thrown himself into sport, now competing in Brazilian Ju Jitsu.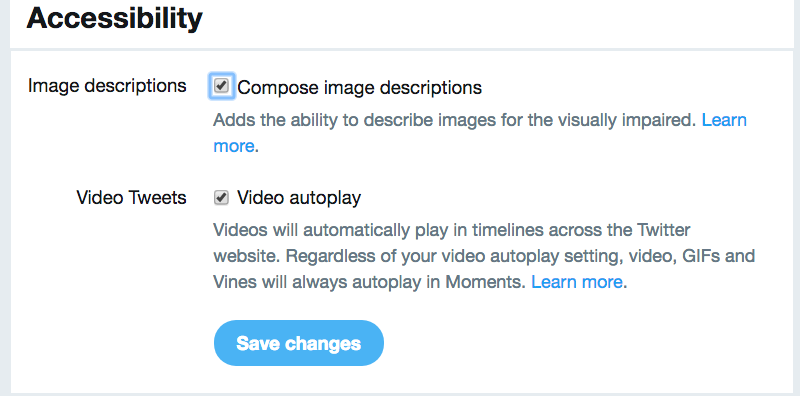 Initially, Rob contacted people individually to ask them to turn on descriptions before he realised he needed to reach more people.
To start adding descriptions, go to settings, accessibility, and toggle on image descriptions. Once it's activated a new box appears when uploading images. On mobile, simply tap the "add description" box, while on desktop, open the thumbnail picture.
Characters don't count in the 280 twitter limit so people can be as short or as detailed as they think necessary.
"I'm grateful just for a little bit of detail," added Rob. "Close your eyes and think how would you want the picture described to you. What do you want to convey?
"This is going to make a difference to so many blind people. It's a really positive step for accessibility."
Facebook uses an automated image recognition tool – the technology scans a picture and then describes it to a blind user.