'I'm going to Costco and stocking up.': All the reaction to Irn-Bru's recipe change
The classic Scottish soft drink Irn-Bru is having its recipe changed and sugar content reduced by more than 50% – as its maker AG Barr grapples with a shift in consumer tastes and prepares for the implementation of a sugar tax in 2018.
The news hasn't gone down brilliantly with some fans of the drink however – and the reactions have come in a variety of forms.
1. Petitioning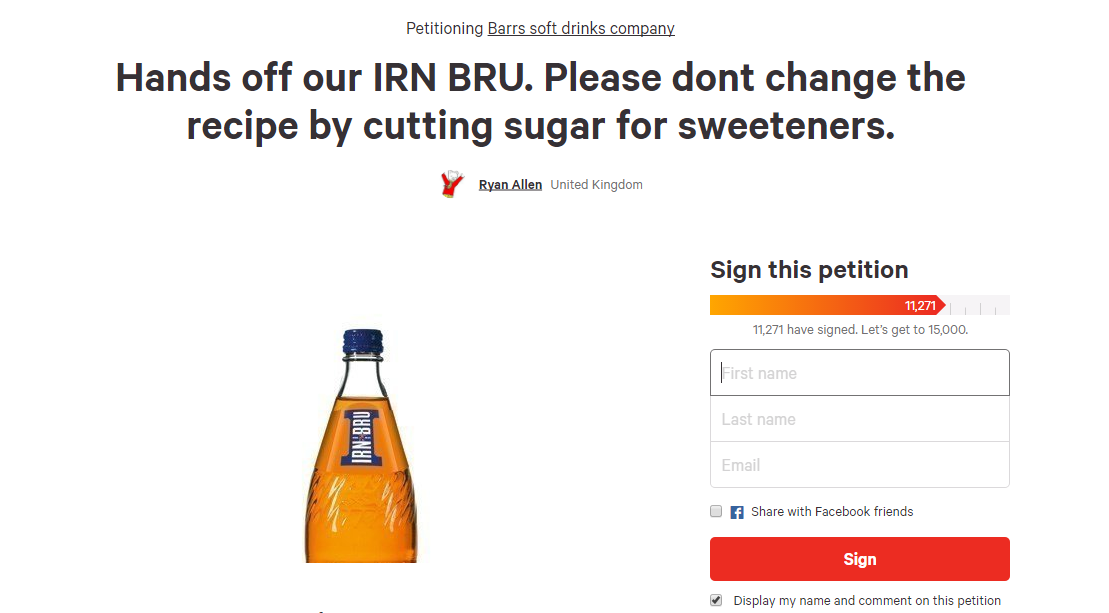 Ryan Allen has started a campaign called Hands Off Our Irn-Bru, with his petition amassing more than 11,000 signatures online.
"It is a national treasure in Scotland and really is part of our culture with its unique taste, branding and marketing," he said. "Don't do it Barr – please have a rethink on this."
2. Stockpiling
3. Mourning future hangovers
4. Googling
Yes that is a parody account for Scottish MP Mhairi Black.
5. Using gifs
6. Fighting with gifs
7. Proposing novel ideas
Irn-Bru's makers have claimed most people will not taste the difference when the fizzy drink's reduced sugar recipe is introduced.
An AG Barr spokesman said: "We know that our loyal drinkers love Irn-Bru for its unique great taste and we've worked hard to deliver this.
"We ran lots of taste tests that showed most people can't tell the difference – nine out of 10 regular Irn-Bru drinkers told us we had a good or excellent taste match."
The new recipe will appear in shops later this month.