12 times Donald Trump became a meme in his first year as president
It's been a year since Donald Trump was inaugurated as the 45th President of the United States in Washington DC.
His first year in office has been eventful, with pushes to remove the American Healthcare Act and a clampdown on immigration.
His actions on Twitter and in the real world have sparked hundreds of memes. Here are some of the best:
1. Trump draws anything
The 45th President of the United States has a habit of holding up executive orders after signing them to show his signature.
This provided ample opportunity for meme-makers to place whatever they wanted on the pages, with hilarious and often unflattering results.
This meme even has a whole Instagram account dedicated to it, with more than 8,000 followers.
2. Solar eclipse
When a full solar eclipse in August 2017 swept across 12 states in just over an hour-and-a-half, people couldn't wait to see their president experience the joy of this natural phenomena.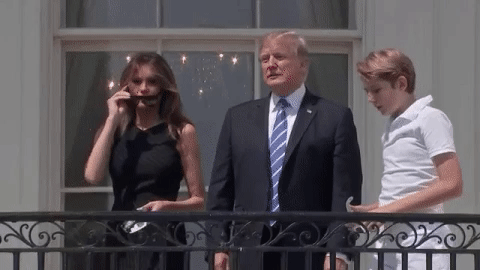 For those who enjoy poking fun at world leaders, Trump provided plenty of material by looking up at the sun without any eye protection on.
3. Thirsty memes
Making yourself into a plethora of memes is thirsty work, and doesn't Trump know it.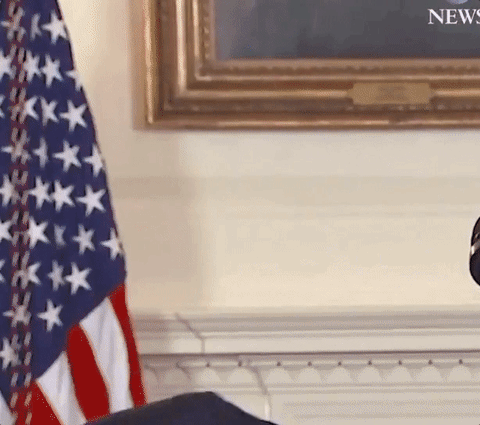 After numerous occasions with Trump drinking water in an odd fashion, the internet began to pick up on it.
4. Gorilla TV
This meme doesn't come directly from Trump's actions, but from a story which circulated about what TV he likes to watch in the White House.
The original tweet apparently showed a page from the Fire And Fury book on Trump and the White House, released this month – but was, of course, a parody.
Or was it?
Brands enjoyed this one, including Animal Planet and Netflix.
5. The "Girther" movement
This week, Trump underwent a medical check-up performed by Dr Ronny Jackson. The doc declared the 71-year-old to be 6ft 3ins (1.9m) tall and weigh 239 pounds (108kg).
Some felt this may not have been entirely accurate, hence the birth of the "girther" movement.
6. The wall
Trump's campaign promise to build a wall between the US and Mexico gave rise to an adaptation of an existing meme to include Trump.
7. Puppy ear
Jade Robinson, from Tyne and Wear, needed a picture of her poorly beagle's ear to show the vet. Once she took the photo, however, she discovered something surprising.
8. Nothing but respect for my president
Following repeated attempts to destroy or sully Trump's star on Hollywood Boulevard, one Twitter user posted about her clean-up operation.
She received thousands of tweets containing praise for her actions, but she also inspired a meme still in use today.
9. Paper towels
When Trump travelled to Puerto Rico in October to assess relief efforts, he was spotted throwing paper towels into a waiting crowd.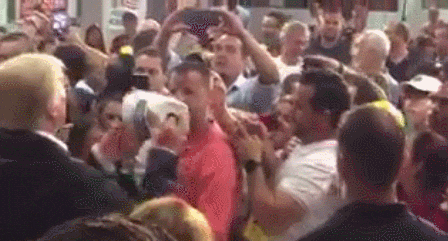 The odd moment inspired a flurry of memes.
10. Animatronic Trump
Disney released its Trump figure for the Hall of Presidents in December, and it looked pretty scary.
In particular, the internet drew comparisons between the model and Jon Voight.
11. Covfefe
Also in May, Trump shared a late-night tweet which read: "Despite the constant negative press covfefe". The new word baffled Twitter users, but seemed a good reason to poke fun.
12. The orb
On a trip to Saudi Arabia, Trump attended the opening of the Global Centre for Combating Extremist Ideology with Egyptian President Abdel Fattah el-Sisi.
During the photo call for the event, the two foreign guests joined Saudi King Salman bin Abdulaziz Al-Saud in placing their hands on an illuminated globe.
The resulting photo was meme heaven.