Graduate designs clothes that expand as children grow
An aeronautics engineer has designed outerwear which expands as children grow.
Ryan Yasin has tackled the plight of parents buying clothes every few months for their rapidly growing kids, with his Petit Pli range.
The James Dyson award-winning design is made from pleated fabric, which can expand seven sizes and fit kids from six months to three years old.
The material is pleated to expand "bi-directionally" – a feature inspired by Yasin's aeronautics background.
Yasin says the "futuristic-looking" garments are windproof, waterproof and breathable – as well as recyclable.
The website says: "Petit Pli uses technical materials that are ultra-lightweight, waterproof and breathable because children are extreme athletes."
The Imperial College graduate got his inspiration after the clothes he bought for his sister's baby no longer fit.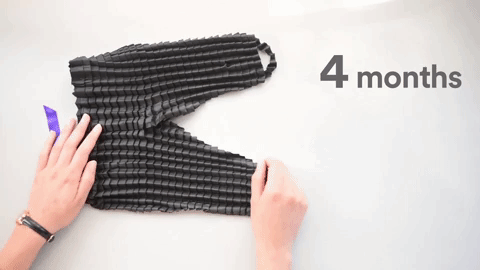 Yasin told the BBC: "Because (children) grow so quickly, I thought their clothes should adapt to that growth."
His design won the UK James Dyson award, which puts him in the running to win the international round later this year, worth £30,000.
He now has a team in place, in hopes of taking the outerwear range to the shops in the coming months.
His gender-neutral designs are also a nod to sustainable fashion, and he hopes to expand his range to adult clothing in the future.