#Fifa18 review: Does the latest instalment live up to the hype?
Fifa 18 is officially on sale and the excitement among fans is as real as it usually is.
Purchasing the game is a foregone conclusion each year for some people, but if you're unsure on this year's offering or are maybe even new to the franchise, here are the takeaways.
What's the story?
EA Sports has delivered the latest instalment of its behemoth Fifa 18, with Cristiano Ronaldo gracing the cover for the first time.
And once again it would appear EA has tweaked just enough to keep the game feeling significantly new in vital areas.
What's right with it?
The crossing. Oh god, the crossing.
It's a skill that has been woefully under par up to this point in the franchise. After crossing your first ball on Fifa 18 you'll notice a difference immediately. Don't be surprised if wing play becomes a much larger part of your offensive arsenal.
Players feel more intelligent in their all-round play – from the way attackers use their body to shield the ball to the way defenders use theirs to win that same ball back. It means first touches with physically weaker players are now more important, but these players are often more agile so it balances out.
Contributing to the intelligent feel is what EA calls New Player Positioning – so instead of running into a congested area filled with defenders, Romelu Lukaku might feign to do so and hang back, waiting for the ball to be delivered to him in space on the edge of the area.
Runs from your midfielders will be easy to pick out, but conversely you'll have to be at your very best to deal with all the potential threats from your opponent – whether it be the computer, your friends, or someone online.
Which leads us to…
What's wrong with it?
Every Fifa takes a while to get used to, and the defending in Fifa 18 certainly requires time. The enhanced dribbling ability, and generally improved movement and positioning of attacking players, makes putting in a tackle often not a simple task.
Slide tackles feel infinitely more satisfying, accurate, and often unpredictable, but it can feel much easier with a standing tackle to just completely miss your mark.
Another thing that contributes to the difficulty of defending, which may not be to the game's overall detriment, is the difference in speed of players.
In Fifa 17 a player with a sprint speed of 60 or 70 wouldn't find it too difficult to catch up with or tackle a player whose speed rating was 80+, which at times really did take away from the game's authenticity.
This time around there's absolutely no chance of Per Mertesacker catching Sergio Aguero, as should be the case.
The downside, though, which may not be related to the speed of each player but something else in the game, is a heavy, weighted feel to a lot of the initial play. Your first few matches will definitely feel slower than you might be used to, with the ball feeling like it's rolling through mud on occasion – but as you come to terms with the game's nuances it should all begin to feel more natural.
What's special about it?
Each year EA aims to make essentially the same game feel brand new and, generally, succeeds.
This year's updates provide more possibility. After scoring a volley that in previous games wouldn't have been possible, playing more seemed the only option to discover other potential new types of goal that are available to score.
Fifa might be harder this year – but with that comes the opportunity for even more extraordinary moments, and that's what makes 18 feel all the more playable.
The technical stuff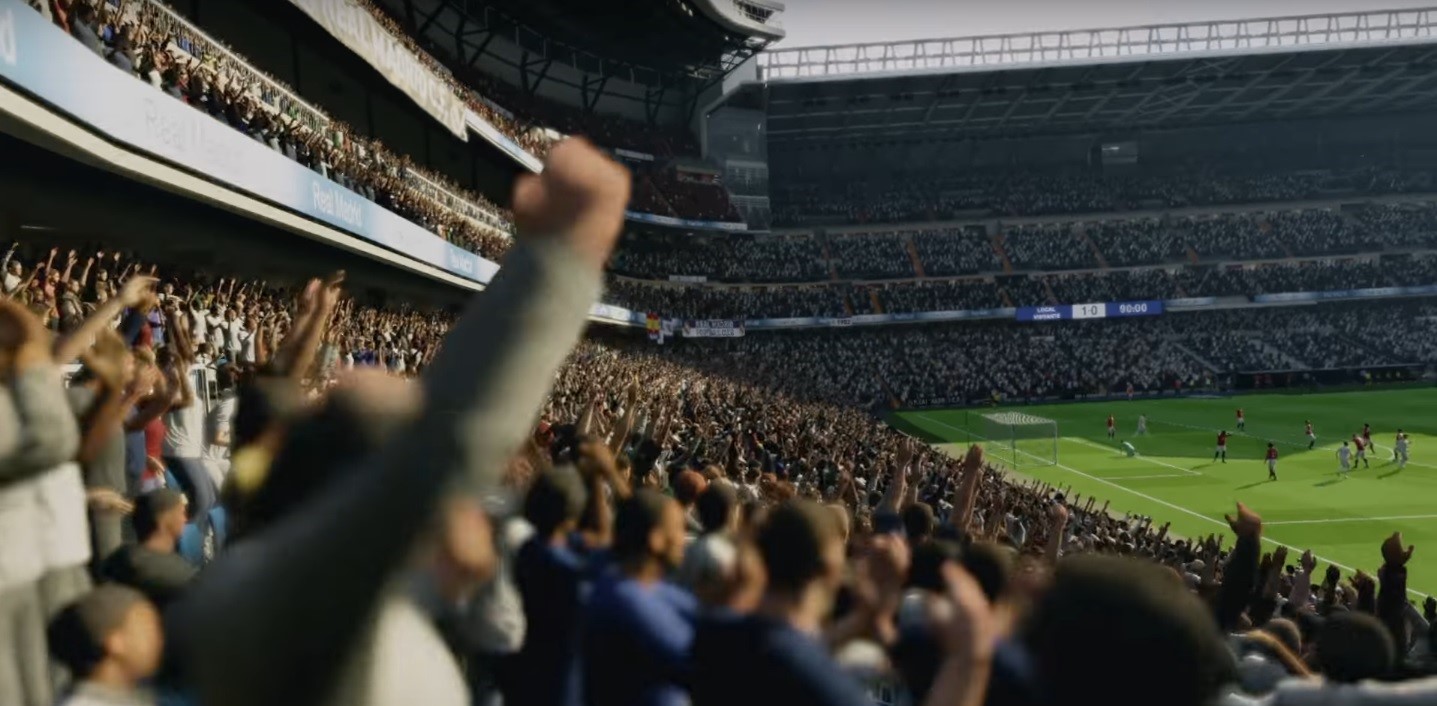 Before its release EA described the new player motion technology as "the biggest step in gameplay in franchise history" – and while it is immediately obvious with some players that their running style has been accurately modelled from real life, it's not the game's most eye-catching feature.
Fifa 18 uses EA's Frostbite Engine, which has traditionally been used in first-person shooters to offer improved animation and heavily detailed environments, for the second time – and it's a roaring success.
Crowd reaction now appears entirely natural, with some fans spilling out of their seats and towards the advertising hoardings when a player scores, some fans interacting with players, and all of their appearances differing vastly.
Fifa crowds haven't kept up with the development of the rest of the game for some time, so although it may sound minor it feels like a big change.
Marks out of five
Fifa is so consistently good it's perhaps judged by a standard that makes it difficult to give a five. For that to happen, EA would have to do something truly remarkable, and while there are a number of good additions and changes to Fifa 18, remarkable it's not.
But, however you like to play, whether it's online, with your friends, in career mode or The Journey, Fifa 18 will provide the excitement and entertainment you've come to expect. 4/5