Part-time student and part-time athlete?
Bronte Holden on balancing her education with her elite kayak training.
Balancing your education with training to be an elite sportsman or women is never going to be an easy option.
It takes years of dedication and plain hard slog to get even near the top of your game - and that's before you add the demands of achieving a good education.
And yet every year people take up the challenge and successfully balance the two.
Take Bronte Holden, aged 17 from Cornwall.
She started kayaking at the tender age of seven.
She was inspired to take up the sport by chance, when the local club held an open day. "I was out playing with my friend – we walked down through the village to the river and saw the event and thought we'd have a go.
"I really enjoyed it, so much so that I joined and continued at the club, kayaking every Tuesday evening."
By the age of nine the coach recognised she had the potential to be good: "So we built up training and I began training twice a week," she recalls.
"I used to enter local competitions and then when I was 10, I entered the national championships – and I won!"
But despite her early success it would be another year before she owned her own kayak!
In 2012 she entered the national championships again, this time winning the solo (K1) AND the double, with a partner (K2).
But as she got older, Bronte, a former student of Fowey Academy in Cornwall, realised the conflict between her sport and education was becoming ever more pronounced.
"I still attended training twice a week – but that's really all the training I did.
"It wasn't until the 2014 national championships where I came fourth that I realised If I was going to take Kayaking really seriously I'd have to commit properly – training only twice a week wasn't going to cut it," she admits.
The realisation left her facing a dilemma. "The problem was my GCSEs – obviously these were important and they had to take precedence."
But then fate intervened. "I heard about an independent school in Norwich called Langley School. It's a specialist sports school where academic study fits around training (rather than training fitting around study)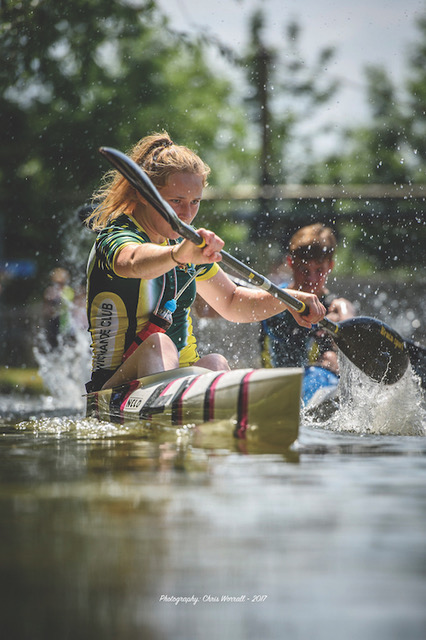 "Everything started to click, i just had to give it time"
"It would mean me leaving home, leaving my friends and family, and leaving state-education to pursue the sport I love," she explains.
Although a scholarship helped with costs at the fee-paying school it didn't make the first term at Langley any easier for her.
"The first term was difficult. I didn't know anyone, I was homesick and independent boarding education is very different to my experience at school in Cornwall," she admits.
"I was very worried about leaving home, being by myself and being responsible for myself.
"To be honest, that first half-term I wasn't sure I wanted to go back – but I did and now I love it, everything started to click, I just had to give it time."
These days she is fully committed to being the best she can be.
"At Langley training comes first and all the staff recognise this, our class sizes are quite small and there's lot of support. We have very specialist teachers and you do get lots more attention.
"These days I'm training twice a day, it's very rigid and I'm training alongside high performers."
Her dedication includes watching what she's eating. "I'm obviously very careful about the food I eat – we don't have specific meal plans but I am very aware of my nutrition." She says.
As for the future, Bronte has a number of goals. "Short-term, I've got my A-levels to worry about and applying to university and keeping up the training, but, my long term ambitions are to compete in the World Championships and perhaps the Olympics.
"But I have a few years ahead of me in that respect, Olympic kayakers tend to be around 30!"