Here's what you need to know to cut it as a #Wimbledon ball boy or ball girl
The world's best tennis players are undoubtedly the main attraction at Wimbledon but there is often a lot of interest in the highly-efficient helpers on the sidelines.
The ball boys and ball girls of Wimbledon (BBGs) comprise a highly-selective and prized club of 14 to 16-year-olds who have been coached within an inch of their lives to be disciplined, precise and fast.
We asked two BBG instructors what it takes to become one of Wimbledon's supporting stars.
What qualities are BBGs expected to have?
BBGs are not expected to be top athletes – the programme favours urgency, precision and discipline over sporting prowess.
Ball boy instructor Tony Joyce is in his fifth year training students at Rutlish School in Merton, south-west London.
He said: "It's difficult. The first year I did it, I was disastrous! I picked kids that were really good at sport but Wimbledon look for a specific thing – they're looking for urgency. So kids who look really smooth and don't look like they're trying, they don't like that.
"They wanted kids that looked like they were going 100mph. You have to have your hand in the right pace, your fingers in the right place, your feet pointing in the right direction."
Sam Wooley, BBG instructor at Harris Academy in Merton, added: "The role is demanding and requires young people who are really clued-in and responsive."
Where do the BBGs come from and what is their journey to the courts?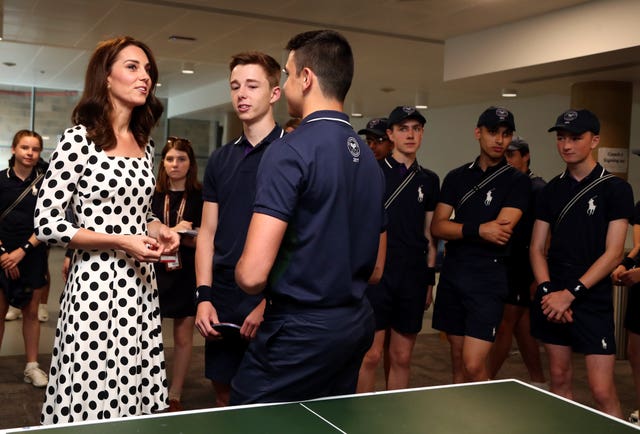 Training at the All England Lawn Tennis Club (AELTC) begins in February and is followed by two-hour weekly training sessions at Wimbledon's SW19 grounds at the start of April. School preparation starts the September or October before.
Out of 700 applicants from 27 nearby schools in Sutton and Merton in south and south-west London, 250 are selected to perform across the courts in teams of six.
BBGs have volunteered since the 1920s, with many staying on in the job for two years.
The programme wasn't always an even playing field – ball girls were introduced in 1977 and it was only in 1985 that they were allowed to star on Centre Court.
How tough is the selection process?

Rutlish is among the earliest places affiliated with Wimbledon's BBG programme as it is one of the closest boys' schools to the SW19 grounds.
Predictably, the few positions handed out each year are highly sought after, with each contender displaying enviable skills on the court.
With 60 applicants for eight places this year, Joyce said the selection process was "harsh".
"(In this year's selection), I had 20 that I could have picked. I had to tell them 'at the end of this, I wont be able to tell you why I haven't selected you. You've just got to trust that I know what they're looking for. And you've done nothing wrong but I think they're going to pick this boy, over the other boy'," he said.
What are they trained in?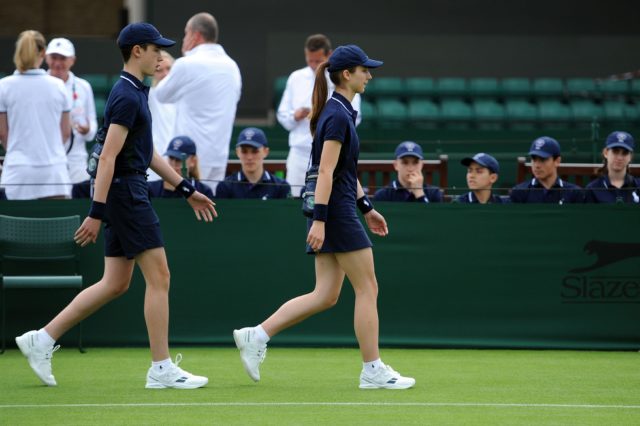 "You have to try and look regimented and it's a bit of a headache, to be honest. You have to teach them not to laugh at each other," Joyce joked.
Although the students are put through their paces, Joyce also prepares his students for the world stage – and the possibility they might become a trending topic if they step a foot out of place.
He said: "One of my boys ran out onto centre court last year and thought 'oh my word, don't fall over, whatever you do'. He'd done it before, but we do wind them up and say 'don't worry, if you do something wrong, you'll be trending worldwide because millions will be watching you'."
On the technical side, students are put trough a "gruelling" programme of fitness and skills trials including an agility and co-ordination test at school and at Wimbledon.
Are all BBGs aspiring tennis stars?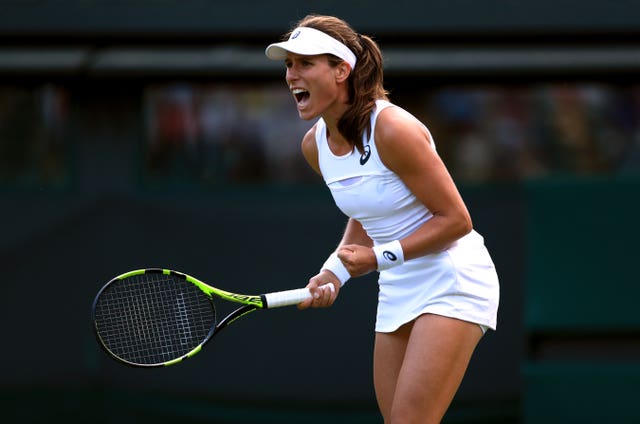 No. Wooley said just one out of his six students this year represented the school team in tennis, although many already share a love of the sport.
Joyce noted that a tennis player's first instinct when they see a ball is to hit it.
He continued: "You get a lot of cricketers, they have experience from fielding the ball, but we've got one or two boys that haven't represented the school at anything."
What's the appeal for the students?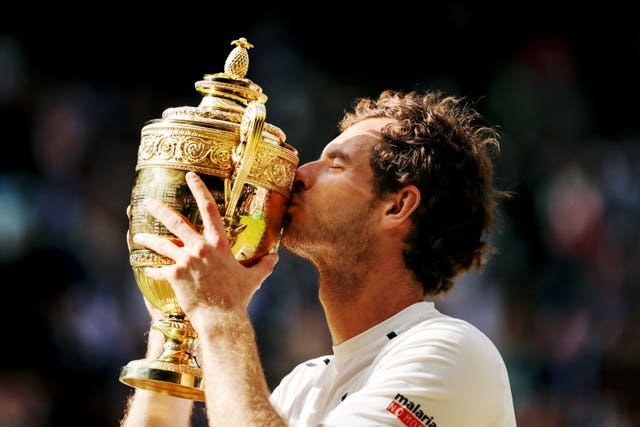 BBGs might not be paid but they are eager to experience the once or twice-in-a-lifetime chance to share the courts with the likes of Andy Murray and the Williams sisters.
"One of our students ended up on court, five feet from Roger Federer. He got hit by a ball from Raonic and said he chatted to him going 'you okay, you sure that didn't hurt?' The influence it has over them is amazing," Joyce said.
He added: "Until they do it, they don't know how fantastic it is. They're excited now because they've got their kit on, but after first couple of days, they'll suddenly get the impact. They'll see themselves on TV and they'll begin to realise.
"Those that went this year will be desperate to go back."