Everything you need to know about Stonewall's School Report on life for LGBT students
Today LGBT rights charity Stonewall released the annual School Report, which shows what life is like for LGBT people aged 11-19 in school.
Stonewall chief executive Ruth Hunt said: "Our school years are one of the most formative periods of our lives, and we owe it to young LGBT people to ensure they don't face discrimination or bullying because of who they are, but are supported to flourish and achieve.
"While our new School Report shows an improved experience for pupils in many ways, it also needs to act as a wake-up call for schools, government and politicians on just how far we still have to go."
Here are the key takeouts from the report.
How does it work?
Stonewall has been publishing the School Report for 10 years, surveying the experiences of lesbian, gay and bi pupils and working with the government to improve environments in schools. In 2015, the survey was extended to include trans students as well.
For the 2017 School Report, more than 3,700 LGBT students were surveyed across Britain.
What's improved since the 2007 School Report?
The number of lesbian, gay and bi pupils bullied because of their sexual orientation has decreased by almost a third since 2007.
In addition, schools are becoming more likely to say that homophobic bullying is wrong, and children are more likely to be taught about LGBT issues in the classroom.
What is there still to do?
While the statistics have improved over the past 10 years, there is still much to be disheartened by.
Nearly half of the young people surveyed are bullied for being LGBT at school, and only one in five has learnt about safe sex at school in the context of same-sex relationships.
52% of LGBT students hear homophobic language "frequently" or "often" at school, so it is clear that attitudes still have a way to go. Not only this, but 86% of students regularly hear phrases such as "that's so gay" or "you're so gay" in school.
Findings also showed the way schools responded is not adequate: fewer than a third of bullied pupils said that teachers intervened when they were present during the bullying.
Poor mental health also continues to be a huge problem. 61% of lesbian, gay and bi pupils have deliberately harmed themselves, compared to 56% in 2012.
What about trans students?
The findings were particularly poor for trans students. Hunt writes: "While a growing number of schools are supporting their trans pupils, too many are not equipped to do so."
While 45% of LGBT pupils total are bullied for their sexual orientation at school, the number for trans students alone is much higher at 64%.
Mental health is also more of an issue for trans students than lesbian, gay and bi young people who aren't trans. More than two in five trans young people have attempted to take their own life; the number for LGB young people is one in five.
How will things improve in the future?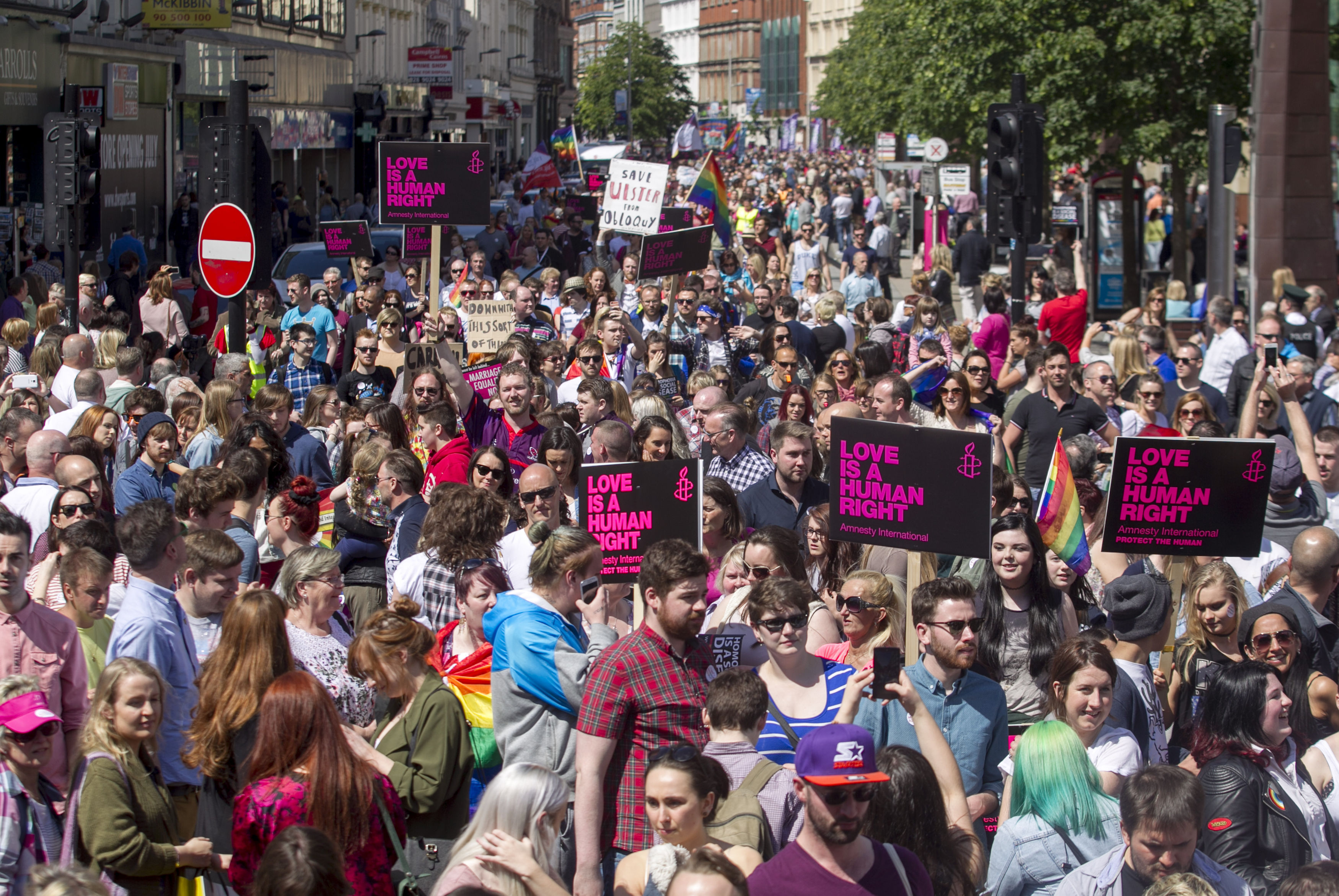 Hunt writes: "Thanks to government and cross-party support, compulsory relationships and sex education (RSE) is set to become a reality in England's schools. This is a vital step towards ensuring that all young people are equipped to make informed decisions about their lives and relationships."
She says it is crucial for RSE to include LGBT people.
The survey details Stonewall's recommendations for ways the Department of Education, Ofsted, local authorities, multi-academy trusts, the Department of Health and social media companies should help and support LGBT young people moving forward.