Here's everything we know so far about the mass shooting in Las Vegas
At least 50 people have been killed and 400 injured after a gunman fired down on an outdoor music festival from the upper floor of a nearby hotel.
This makes it the most deadly mass shooting in American history.
Police have identified the gunman as 64-year-old white Nevada resident Stephen Paddock.
What exactly happened?
At around 10.07pm local time, the shooter opened fire from the 32nd floor of the Mandalay Bay Hotel onto festival-goers attending the Route 91 Harvest Festival.
Across the street, tens of thousands of fans were watching country music star Jason Aldean perform.
One witness, Kodiak Yazzie, 36, told the Associated Press how the music stopped and restarted when loud bangs that turned out to be gunfire were first heard.
After the music began again, so did the shots and the performers fled the stage.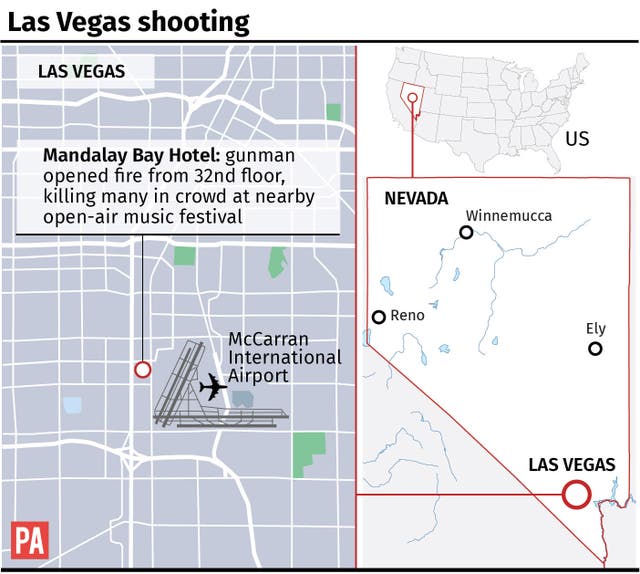 "You could hear that the noise was coming from west of us, from Mandalay Bay," Mr Yazzie said. "You could see a flash- flash- flash- flash."
Distressing video footage taken at the scene shows how the shooting continued on and off, as civilians tried to escape the venue or hide under cars or behind stalls.
Another witness, Monique Dumas from British Columbia, Canada, told AP she initially thought the shots were fireworks.
"It took four to five minutes," she said, "and all that time there was gunfire."
How was the shooter caught?
Las Vegas police used explosives to gain entry to the 32nd storey room, where they found the shooter had killed himself.
County Sheriff Joseph Lombardo said at least 10 "rifles" were also found there.
They do not believe anyone else was involved in the shooting, calling it a "lone wolf" attack.
Who was the shooter?
The police say the shooter was 64-year-old Stephen Paddock.
He was believed to be a grandfather, who lived in a two-bedroom home in a small desert community Mesquite, around 80 miles north east of Las Vegas.
He reportedly checked into the Mandalay Bay Hotel and Casino as a guest.
Sheriff Lombardo said the police had no "investigative information or background associated with this individual that is derogatory".
His brother, Eric Paddock, has already spoken to the police, but told local press in Florida that he was "completely dumbfounded" by his brother's actions.
He told the Orlando Sentinel: "We can't understand what happened."
A woman, 62-year-old Marilou Danley, who reportedly lived with the shooter was being sought as a person of interest, but authorities say they have now located her.
Officers do not believe she was involved in the shooting.
Who were the victims?
The county fire department estimated that 406 people were taken to surrounding hospitals following the shooting.
The death toll of 50 makes this the deadliest mass shooting in modern US history, a title used last June when a gunman killed 49 in an Orlando nightclub.
Las Vegas police said that one of their own officers, who was off-duty, was also killed in the latest attack, but have not named him. Two on-duty officers were also injured.
A south Californian police department, Bakersfield, said several of their off-duty officers had been at the concert, and one had sustained injuries that were not life threatening.
What has Donald Trump's response been?
On Monday morning, Donald Trump called the mass shooting an "act of pure evil".
The president also said he would be visiting the city on Wednesday to meet emergency services and victims' families.